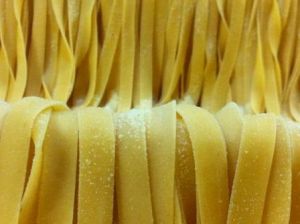 As the saying goes, it's not work if you love what you do! For local foodie Sue Kemenes, food is what she loves.
Five years ago, a close friend was opening a fruit shop and Sue jumped at the chance to sell her range of homemade pasta.
"I asked whether he would sell pastas in the store, and when he said yes, I went home and ordered a pasta machine to make pasta," says Sue.
"I bought a commercial pasta machine from Melbourne, purchased 25kg of durum flour and a box of 15 dozen eggs and went to work perfecting my pasta recipe."
Specialising in fresh gourmet pasta, Sue prides herself on offering a fresh product, ready for customer to take home and cook the same day.
"I do all the flavoured pastas, gnocchi, and ravioli, cannelloni and a variety of sauces all myself."
"I use all good quality and local produce from Canberra's farmers markets; all produce is as sustainable as I can be and organic where possible from the meat to the eggs that I use.
"The beauty of making pasta is you can be traditional as well as innovative. You have the traditional pastas, but you're able to be creative and come up with your own creations," she adds.
Since starting out in 2009, Sue has had particular success at the EPIC markets – selling out every week!
"I make the same set amount each week and when I sell out, I sell out!" Sue says.
"I was approached by someone who offered to make my products at a larger scale because of how well I was doing, but I turned him down. I didn't want to lose control over the quality, and really this isn't just a business for me – it's my passion and if I can't be right in there amongst it, then it isn't the same."
Confident that it's not just a good, fresh product that has brought her success, Sue told us that having a real passion for what you do is what's truly important.
"Don't just do something because it's been thrust upon you, do it because you really love it," she points out.
"I don't think you need a piece of paper to prove that you love food. Sure you can learn how to cook and make food, but you can't teach passion!"
Speaking of teaching, after being approached by her customers who wanted to learn how to make pasta, Sue is now running her own cooking classes.
"Two years ago I started off with a few lessons and have just started them back up again this year," she said.
"We've just started running them at Majura Hall and it's been fantastic – we get together, make the pasta (and a mess!), cook it and eat it all together with a glass of wine!"
Anyone interested in the class can come and find Sue at the Farmers Market and she'll add them to her email list to keep them updated.
Sue admits that venturing out to sell her own product has come with some challenges.
"There are heaps of challenges along the way, consistently! A challenge for me sometimes is getting the produce in time – if I can't get eggs one week, I have to go and source them from somewhere else. They're essential; no eggs, no pasta!"
"My greatest challenge is probably myself – I'm continually raising the bar and looking at new ideas and recipes. I've realised sometimes I need to stop and not take on too much."
Sue's advice for managing the challenges of running your own business is simply to be organised, in particular knowing about and following set rules and regulations.
"Following the set rules and regulations is a must; it's as simple as that," she states.
"I registered my kitchen at home and follow the rules for my market stalls, and have never had any issues. It's simple; if you follow the rules you'll never have a problem."
Sue's top tips to anyone wanting to start out in the food industry:
"DO IT! The worst thing you can do is fail, and even then you can try again! When you're starting, the markets are a great way to engage with customers and get feedback, as well as a great time! It's a very friendly and personal exchange with customers.
"Personally, I didn't borrow a lot of money. Everything I borrowed, I've paid off. I have no credit, everything is paid for and I think this is the best way. It's the harder way to do it but in the end it makes it much easier. Finally, just do the best you can; how can you fail!'
And when we ask Sue about plans for the future:
"I'll keep doing it for as long as I can," she says.
"I just love what I'm doing."
About Lighthouse Business Innovation Centre
Lighthouse has a strong track record of supporting entrepreneurs, researchers and inventers on the path from concept to commercialisation. Since July 2008, Lighthouse has worked with over 990 distinct enterprises and provided group and peer based services to over 3400 enterprises and individuals. For over five years Lighthouse has successfully delivered business advice, education, mentorship and networking opportunities to help these businesses commercialise their ideas and grow their companies. Lighthouse also delivers programs such as the ACT Microcredit Program for the ACT Government. Visit www.lighthouseinnovation.com.au for more information.