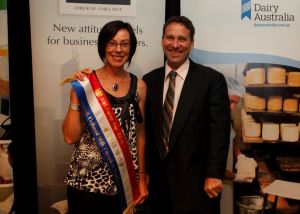 Who doesn't love a good story? Storytelling is one of the most powerful tools in any business communication toolkit. Some of the most remarkable stories come from family businesses.
Sally Fairley from Country Valley, a family owned dairy farm based in Picton, knows how important their story has been in growing their business.
"My husband always says 'I don't sell milk, I sell a story", says Sally.
"In the beginning the story we told was all about the family and the farm and its history and this was a really successful marketing tool."
In a world where consumers have a lot to choose from, Sally believes that telling a story that resonates with customers can be a key differentiator.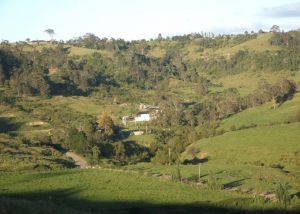 "There are lots of food businesses out there that are probably quite similar, so it's important to find that story behind what you do to be able to market yourself differently from everybody else," she says.
When it comes to customers in the dairy industry, it's important to know what really drives people to buy niche products.
Sally says they've noticed people have a real interest in local produce.
"Our products are a little bit more expensive and so the people who purchase our products are those who are very interested in where their food comes from."
"They're interested in our farm and the way that we farm."

With the Government deregulating the dairy industry in 2000, Sally's family farm was reclassified as a small dairy farm from a medium sized business.
As a result, the family decided to make some big changes to keep operating.
"The farm was going to be too small to be able to sustain the family and the milk price had dropped substantially so we had to look at different ways we could add value," she says.
"We were given a bit of notice to the changes coming, both the industry changes and price drops, and we had been looking into making some changes to running the farm as a business."
"The dairy farm had been a really profitable business for many years, but my husband knew that it wouldn't always be, so we needed a new way to go about running the business and decided that building our own bottling plant would be the way to go."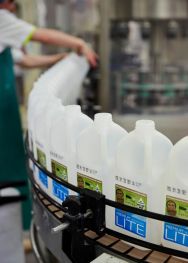 Taking two years to build, they opened for business in 2004. Sally says adapting to the changes that came their way by adding the bottling plant was a really good way to stay in dairy and grow the business.
But they haven't stopped there! Sally and the family have started focusing more on the farm itself and how the farm can be the innovator in how they market their products.
"We have started looking into biological farming; we've cut back on using sprays and don't use any artificial fertilisers on the paddocks anymore, and we've started using compost and looking at different ways to farm to build up the carbon in the soil," she says.
"My husband's motto is 'Every time I do something green, I save money.' "
"We've changed over to greener bottles and they're cheaper. We've substituted manure for chemical fertilisers and it's cheaper. It's not a matter of greener costing more; we believe it actually costs less."
Learning from experience, Sally does have some words of advice for anyone looking to start their own business.
"Starting up any business, I think the core ingredient is making sure you have enough internal cash flow," she says.
"Always have very strong accounting systems in place; in the beginning you need to know exactly where you stand, every single day. You need to know what's going out and what's coming in and you need the management protocols in place to manage that."
"In the food industry, you have to make sure you have all the right protocols in place and registered with all the appropriate authorities but you also need to find what distinguishes you from everybody else."
And what about the future of Country Valley?
"We're very interested in bio-banking and putting in a co-generation plant. We're looking to get ourselves off fossil fuels completely and into creating our own electricity, compost, and fuels for our trucks.
"We're also looking to utilise the biodiversity on the farm and how we can use the farm as the core to marketing our products. We want to increase productivity in a biological way."
About Lighthouse Business Innovation Centre
Lighthouse has a strong track record of supporting entrepreneurs, researchers and inventers on the path from concept to commercialisation. Since July 2008, Lighthouse has worked with over 990 distinct enterprises and provided group and peer based services to over 3400 enterprises and individuals. For over five years Lighthouse has successfully delivered business advice, education, mentorship and networking opportunities to help these businesses commercialise their ideas and grow their companies. Lighthouse also delivers programs such as the ACT Microcredit Program for the ACT Government. Visit www.lighthouseinnovation.com.au for more information.