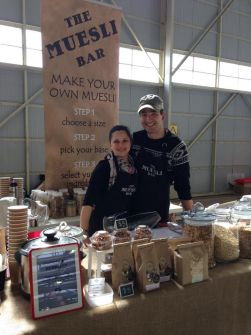 As we become more motivated by health and wellbeing, the health food industry is reaping the rewards.
For Lisa Fischer from The Muesli Bar, business is booming after being inspired by her own preference for homemade muesli.
"I used to always make my own muesli and about seven years ago, I had the idea of setting up a website where anyone could pick what goes into their muesli, make up their own mixes and then have it delivered," says Lisa.
Like many start-up stories, Lisa's start in business was motivated by the struggle to find a job.
At her husband's suggestion, she decided to give her health food idea a go and started selling her muesli products at the Farmers Market at Exhibition Park in Canberra.
"The markets, especially those at EPIC, are incredible. The people that shop there are very supportive and passionate about the products sold," she says.
"We have been so fortunate with our loyal customers that things have developed naturally through the markets."
Using the local markets as her base has had immense benefits for Lisa, particularly when it comes to engaging with customers and finding out first-hand about their taste preferences.
"There are totally different tastes on different sides of town," she says.
"At EPIC we sell a lot of 'mix-your-own muesli' – people love being able to have input on what goes into their muesli – fruit-free and sugar-free are popular. But at the Bus Depot Markets it wasn't successful and we've now stopped bringing mix your own there and only sell pre-bagged natural, toasted, half-half which sells really well."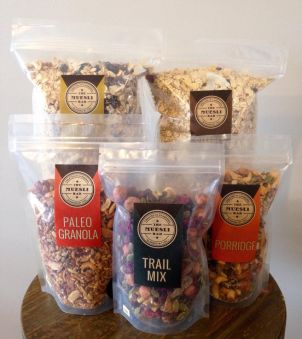 Lisa is the first to admit that by selling a product that is so on trend has helped her success.
"Without a doubt Paleo is our number one product – it ticks two boxes, paleo and gluten free, as well as tasting good!"
"Now that we offer sulphur free muesli we have a lot of people with allergies like asthmatics coming to buy our product. Sugar-free is also popular among those with diabetes – we've had lots of customers who are pre-diabetic come and buy our sugar-free product."
"The fact that my product is so customisable does hinder my ability to grow and scale up, but it does mean that I'm not at the whim of any food fads."
For anyone looking to start a business particularly in the food industry, Lisa recommends collaborating with other local businesses as a great way to help get your name out.
"Our collaboration with local cafés and shopfronts has been really supportive from the start – we do a lot of cross promotion with one another and love to catch up and hear about how things are going," she says.
"Before meeting with Lighthouse, I thought the only way to get business happening was going directly to shops and having to share my story which I found very uncomfortable. But by taking a more collaborative approach, I feel way more comfortable with it all especially locally."
Of course starting a business comes with a number of challenges, and for Lisa owning and running a business was a big learning curve.
"I didn't start out with that strong business knowledge and I think it was probably a good thing," she says.
"I think that if I knew what I was getting myself into I might have been too scared to do it."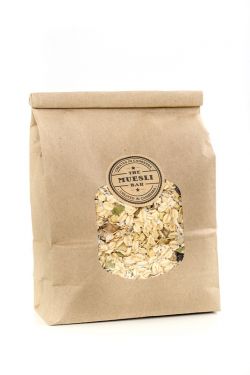 But by no means has that stopped Lisa and The Muesli Bar from charging forward.
"Perhaps our biggest problem, and probably always will be, is knowing how to price our products properly. Especially in the food industry where prices of ingredients can vary with the season, we can't go and change our product prices every few months," she says.
"Where price of fresh produce is changing, it's about pricing yourself carefully so you can absorb that."

Lisa believes that when starting a business, you should seek advice from those who have been through it before. We asked Lisa for some words of advice for someone starting out.
"Really be careful not to bite off more than you can chew and have really high overheads that will cause you to go under," she says.
"Our business is a low risk because we produce dry goods. ACT Health have really comprehensive information available so do your research!"
"I definitely recommend getting the right information and asking plenty of questions along the way."
As for the future of The Muesli Bar, Lisa is looking forward to what's ahead. As challenging as it has been for her, this year has been a big one for the business.
"I've started the year crying (laughs) but I will end it really happy!"
About Lighthouse Business Innovation Centre
Lighthouse has a strong track record of supporting entrepreneurs, researchers and inventers on the path from concept to commercialisation. Since July 2008, Lighthouse has worked with over 990 distinct enterprises and provided group and peer based services to over 3400 enterprises and individuals. For over five years Lighthouse has successfully delivered business advice, education, mentorship and networking opportunities to help these businesses commercialise their ideas and grow their companies. Lighthouse also delivers programs such as the ACT Microcredit Program for the ACT Government. Visit www.lighthouseinnovation.com.au for more information.