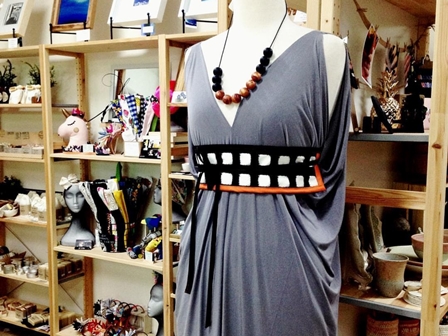 Whether you're a creative looking for a community or a connoisseur in search of a unique, high quality handmade gift; Trove is the place to go. A local co-operative of makers, designers and artists who all live within a hundred kilometres of Canberra; Trove provides a beautiful city retail outlet, open six days a week.

What is so special about buying handmade?
Visiting Trove is not just about the products, it's an experience in its own right. The store is staffed by the members, so you will meet a maker every time you visit. When you buy a handmade item, you are buying something unique. It is impossible for two handmade products to be the same.
Handmade items have patina and providence. You see the maker's marks, fingerprints in the ceramics, chisel marks in the timber, the stitches and brushstrokes. To give a handmade gift suggests a certain amount of thought and motivation and tells the recipient how much they are appreciated. Giving handmade, is giving love and a piece of the makers heart and soul.
Many of the makers use sustainable and ethical practices in producing their products. Organic fabric and yarn, locally sourced organic honey, recycled components, palm oil free soaps, reclaimed timber, candle containers that can be refilled, slow fashion ideals and biodegradable or recyclable packaging. Handmade makers are closely involved with their suppliers and raw materials and can produce an end product that ticks all the environmental boxes. Handmade products also last longer, become family heirlooms, and are passed down from one generation to the next.

Supporting local people
Trove provides a supportive environment for makers with business advice and mentorship readily available. Regular meetings, workshops and business chats help to keep craft skills alive and create demand for education in these skills. Being part of Trove is more than just a retail space it is joining a community that shares similar passions and skills and a shared objective to see each other's businesses prosper.
The Trove community includes people just setting out on their business journey as well as those creating empires - a good mix of experience and skills. Members collaborate with each other on projects. 3D printer, Game Candy works with illustrator Antipodigital, who has also produced work with children's wear maker Wombat and Poss. Woodworker Acorn Craft has made wooden buttons for Wombat and Poss and two of the jewellers, The World Rocks and Makico, have worked on silver jewellery pieces together. Artists Jennifer Baird and Kylie Fogarty have been involved in group exhibitions together.
Trove holds regular workshops, with members holding painting, screen printing, knitting and crocheting workshops, sharing their skills with the public. 'Create with Trove' is an initiative where members of the public can bring along their own craft projects and meet other like minded people, enjoying afternoon tea and a chat.
Central to Trove's ethos is building a sense of community. Trove is involved with local community events and charities, such as World Wide Knit in Public Day, Design Canberra, Share the Dignity, the Pussyhat project and Queanbeyan Yarn Bombing.
For more information about Trove visit https://www.trovecanberra.com.au