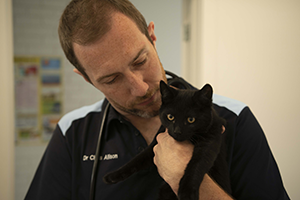 WildBear Entertainment is one of Australia's leading factual content producers. The Canberra-based organisation specialises in creating audio-visual content across subjects such as history, science, engineering, wildlife, and arts and culture. WildBear has been commissioned by leading international platforms including BBC, National Geographic, Discovery, Netflix and PBS and a host of platforms in USA, Canada, UK, France and Germany. In Australia, WildBear content can be found on Nine, Seven, Ten, ABC, SBS and Foxtel.

With production offices in Canberra, Brisbane and Sydney, WildBear provides over 150 hours of content a year. This specialist factual content can take the form of a TV documentary for a conventional broadcaster, or for a streamer, or it might be for theatrical release.
WildBear is focused both on IP creation and manufacturing. Not only do they come up with the idea for original content and a plan for the execution, but also where the funding is going to come from. Then they deliver the final project to a funding partner.
WildBear Entertainment was formed in 2014 by the merger of Canberra-based Bearcage Productions; Sydney and Brisbane-based Wild Fury Productions; and Content Mint, Australia's leading provider of archive footage. Since becoming WildBear, the focus has shifted more to long form content for business, film and TV. Previously, the focus was more on digital business such as Government Communications and advertising. Now, 90 percent of the company's revenue comes from television.
Many of the stories produced by WildBear have very distinctive Australian content but with global appeal. WildBear exports content to countries such as the USA, Canada, France, Germany and China. The UK, Canada and the US are the biggest content markets in the world and WildBear has a strong presence there. The company was a winner of the 2016 ACT Chief Minister's Export Awards and has also participated in ACT Government trade missions as well as the ACT Trade Start program. WildBear employs between 95 to 120 contractors and 40 to 50 crew depending on the project.
The globalisation of content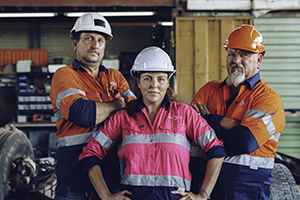 Lauren and Myron Hartwin from Hartwin Industries Group - Demolition Down Under (2019)According to Michael Tear, CEO of WildBear, there is a massive digital change occurring. The greater globalisation of content means that the domestic providers, whilst still being really important, are not as influential as they were 20 years ago.
"Consumers are exposed to the best of the world," Says Michael.
"This means that in Australia we are competing with some of the biggest studios and the biggest cheque writers in the entertainment business. You therefore have to be pretty clear about where a particular piece of content fits.
"We are seeing business models around advertising challenged. Then you have the sort of Black Swan events like COVID-19. While this is an ongoing challenge it's also an opportunity. It means we have access to a global audience".
Michael also points to the global supply challenge caused by the pandemic.
"In markets where all of production has stopped due to lockdowns there will be a supply side gap, possibly towards the end of the year. If we can get out there and into the market, selling content that's ready to go, then that's an opportunity for us.
"It means we have to take a few more risks, possibly green lighting a few shows that are not really fully financed," says Michael.
"The sales cycles are quite slow, for example, we are selling content now for 2022. So, if you're not in production for content towards the end of this year, it's almost too late. That's why you've got to hold your nerve and get in there and get projects underway as much as possible.
"By the time there's a vaccine, to gear up and get going and shoot, this can be 12 to 18 month's work. The gaps are going to appear well before that so we need to be on top of that early," says Michael.
Pandemic-proofing the business and the importance of minimising risk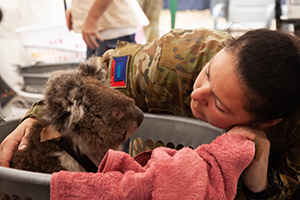 Bushfire Animal Rescue (2020) - Member of the Australian Defence comforts a koalaMichael stresses the importance of minimising risk in the current situation. WildBear has tackled that on a range of fronts.
A balanced portfolio of work
While WildBear used to be much more internationally focused, it now has 50% Australian projects and 50% international.
"It's about making sure you've got the right mix - a portfolio of projects and a portfolio of genres," says Michael.
"You've just got to make sure that you've got the balance right because, for example, foreign currency changes and the volatility in certain markets can impact on us".
An extra layer of 'duty of care'
Michael emphasises the importance of health and safety protocols in the current environment so that no one is exposed to any unnecessary risk.
"You just have to have an extra layer of duty of care in absolutely everything you do. We've had to completely upend the way we operate. And we've had to do that in a very short amount of time. Luckily, in Australia, we're in a position where it's not completely out of control and that's been great.
"Buyers are looking for great ideas, well-executed to budget, but also how you can minimize the risks of disruption. Buyers are concerned if that they commit to a project that is then affected due to a Covid19 outbreak there is a risk of significant delays in production, there is some commercial advantage if you can minimise the risks of something going wrong.
"You have to work with all your staff, your suppliers and your contractors and everybody in the ecosystem to manage the risks. Things like encouraging people not to come to work if they're not feeling well, don't travel and all that other sensible stuff.
"For instance, we're doing quite a lot of shows at the moment where we are interviewing experts. We have to demonstrate that we can still conduct an interview and protect them and their health and that the crews are well protected.
"It's really important that we are on top of our game in terms of the functional operational aspects. It's important that people understand what we're doing and why we're doing it. And why this particular content or show is relevant and important now and something that they should be participating in. We also have to reassure our crews that when they're coming to work, they're going to be safe and not exposed to any unnecessary risks".
Making the decision to press on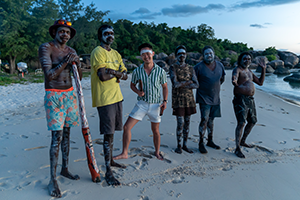 Waltzing the Dragon (2019) - Benjamin Law in Bawaka with Theo Burarrwanga, Jason Wayk Gurruwiwi, Simon Maymuru, Aarien Maynuni, Timmy Burarrwanga. Michael believes that it's important to maintain a positive outlook on things and look at opportunities to get things done and not for reasons not to do things. He believes that in itself creates opportunity.
"We're making the decision to press on and go for things and not just retreat into a shell and hide and wait for the whole thing to disappear. We've greenlit a production in Queensland, which is, of course, fantastic. It's relatively virus free and we're going hell for leather on that one. We've got a few people down in Victoria, so we're obviously not going to be shooting down there at the moment but we are doing our best to support them in a difficult time".
Michael believes it's important to be really flexible and adaptable in the current environment.
"We've we just had an interesting situation where we are doing a project with Germany and a German corporate lawyer needed ink signatures on everything. We had terrible trouble getting the physical contract from Australia to Germany and we had to sign this thing three or four times. We sent it out via various mechanisms. I still don't know where these contracts are, they're somewhere in the postal system. Things that you thought couldn't happen, do. The clients weren't going to pay us until they had the physical contracts, so we had to negotiate with them and send scanned copies, but reassure them that the paper copies with the ink signatures were coming. At one point, Germany wasn't receiving any mail. They weren't accepting it at the border. You need to be prepared for extraordinary circumstances".
The advantages of a digitally focused business
According to Michael, there have been a number of advantages to being a digitally focused business in the current pandemic.
"All of our working platforms are cloud-based and we're lucky at this point, because currently everything is delivered digitally. Massive files of completed programs in 4K or HD are delivered via the internet. That's only happened in the last three or four years that we've gone to digital delivery from tape delivery. We used to produce tapes and ship them by couriers and post and to various buyers, but now it's all done digitally. Thankfully, that means that we can keep delivering content to our clients. We also make cuts available on Vimeo and clients can review them and add notes. These sorts of technologies have really enabled our business to keep going. Things would have been a lot more difficult without access to the technology".
"We're privileged in that we are in a position where we've been able to continue working and people have been able to work from home. I predicted a greater loss of productivity in the transition when staff shifted out of the office and into their homes. However, our team have responded really well, and have really knuckled down and worked hard. A creative environment often relies on high degrees of collaboration, but they've adapted and are working really well.
"Ten years ago, if this particular scenario had happened it would have been much more difficult for us to continue trading. The advent of Skyping, video conferencing and cloud services have really made the workplace more flexible. And I think that has been the key to us adapting to this new environment. I'm really thankful that this didn't happen earlier".
Photo credit: © WildBear Entertainment Pty Ltd Worldwide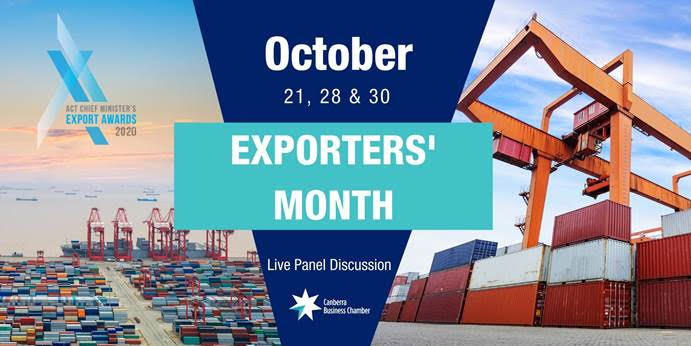 An initiative of the ACT Chief Minister's Export Awards
The ACT Chief Minister's Export Awards aims to showcase and celebrate the achievements of Canberra region exporting businesses. These Canberra and region businesses transact significant parts of their business activities (legal, accounting, production, research etc.) through the ACT as they develop international markets. The ACT Chief Minister's Export Awards aims to build the pathway for new and emerging Canberra region businesses seeking to internationalise their business. If you are a new or existing exporting businesses in the Canberra region, you can access a range of support as well as network with other exporting businesses, including

The ACT TradeStart Program helps ACT exporters to achieve long term success in international markets. The TradeStart program allows the ACT Government to work closely with Austrade and access key Austrade resources such as their export database, trade mission activities, their off-shore offices, intelligence and international connections for the trade and investment activities to support ACT exporters.

The International Business Engagement Program is being delivered by Canberra Business Chamber on behalf of the ACT Government. Its main objective is to maintain, rebuild and find new opportunities for Canberra and region businesses to engage internationally. The program focuses on building the Territory's exporting community; providing training and support by facilitating seminars and workshops; creating links between local industry and other government support programs; assisting the ACT Government in co-ordination of business trade delegations (outbound and inbound).