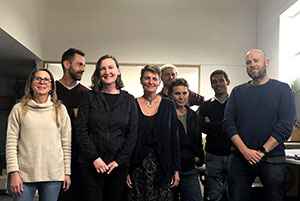 With many galleries, libraries, museums and cultural centres closed during the Coronavirus lockdown, local business, Thylacine, has been finding innovative solutions to continue working on exhibition design projects around the country.
Founded in 1999 and named after the Tasmanian Tiger, Thylacine is actually two companies – Thylacine Design & Project Management & Thylacine Exhibition Preparation. The team of designers, artists, makers and installers is responsible for some of Australia's most vibrant and engaging public art works and exhibitions. Some recognisable Canberra public art works are Running Lights, the kinetic sound sculpture of illuminated steel forms that emerge from Lake Ginninderra; the blue Kent Street bridge screen over Adelaide Avenue, the Village Centre at the National Arboretum and the interactive light canopies on Childer's Street Acton. Recent exhibitions in Canberra include Endeavour Voyage for the National Museum of Australia and Connections and Voices permanent galleries for the National Archives of Australia.

Thylacine's practice includes permanent and temporary exhibitions, urban art as well as art and collection services to museums and galleries all over Australia as well as internationally. Thylacine's clients include galleries, libraries, archives, museums, visitor and cultural centres, heritage sites and public places. Their clients include national and regional art and cultural institutions including the National Gallery of Australia, the National Museum of Australia and the Australian War Memorial.
Thylacine has received extensive industry recognition, winning the 2018 and 2019 ACT Chief Minister's Export Award for the Creative Industries Category and recognition for their design of Bilya Koort Boodja Centre for Nyoongar Culture and Environmental Knowledge in WA, which was shortlisted for the Australian Interior Design Awards in Installation Design. They have recently won an International Muse Design Award for the design and build of the permanent galleries at the National Archives of Australia.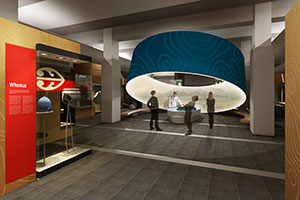 Redevelopment of Permanent Galleries, Learning Base and Tāmaki Stories, Auckland War Memorial Museum According to Alexandra Gillespie, Thylacine Business Development Manager, Thylacine as a company was founded in parallel with the creation of the National Museum of Australia. In its first 18 months, the company won major contracts with the National Museum of Australia and the Melbourne Museum. In recent years Thylacine has been working on a large redevelopment of the Auckland War Memorial Museum, their first big international contract which has been running for four years and is due to open in early 2021.
"At the same time in early 2017, we also won a contract with the West Australian Museum designing five permanent galleries for them which are due to open on the 21st of November 2020. These two projects, one big national project and one international project were running at the same time".
This meant the team had to expand rapidly.
"We actually couldn't fit everyone into our office, so we had to move out of our office for a year and redevelop it to accommodate more people. We had finished that renovation in early 2019 and then COVID hit this year and everyone moved to working from home. We had also just moved offices in Melbourne just prior to Covid and our team there are still working from home at present."
Alexandra says the coronavirus pandemic has impacted the business in a number of ways, from the way they work as a team to working with clients, suppliers and even finding new business.
Working differently has opened up a few possibilities
"We have definitely seen a slowdown in government tenders and some projects that we were just about to start were cancelled or put on ice. We had just won a couple of national contracts as COVID was hitting. With one project in regional Victoria, we were able to fit in a site visit before border restrictions happened, but with a project in Tasmania, we were just about to have our first site meeting then all the border restrictions came into force.
"We just had to work remotely. Luckily, we knew the team at the Tasmanian Museum and Art Gallery and we knew the exhibition spaces as we had worked on an exhibition for them about 13 years ago and I had been there for a site visit in January.
"We just had to rely on photos. The first startup meeting, which we always do as one big team, we did on Zoom. They had a portable camera and just walked around the gallery so our whole team could see the spaces. We would direct them 'Oh, can you just look up there' and 'show us the ceiling' and 'move over there'.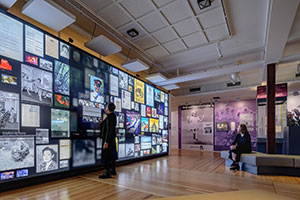 Redevelopment of Permanent Galleries, Connections, National Archives of Australia. Photographer Ben Guthrie.Alexandra says the whole project has been run remotely and, in a way, it has been a good model for them.
"It has demonstrated to us that if we are working on a similar international project and you couldn't get there or didn't have the budget for travel, you could still do the project without actually having to go to site".
Rethinking how we interact with exhibits
Many galleries and museums have been relying on virtual tours to continue engaging with their audiences during lockdown, but now that they are able to open albeit with restrictions, how people interact with exhibits is being forced to change.
"A lot of things that were already designed and built to be interactive have been taken out of exhibitions. I think COVID will definitely change the way we think about touch surfaces. Interaction and touch interaction are a big part and a very exciting part of exhibitions. However, now people are just thinking really differently," says Alexandra.
"if you are including touch, then you have to think about how frequently those areas are cleaned and you even have to think about different ways people move through an exhibit. We have always designed for volumes of people moving through a site, like school groups. Now, I think we'll also be designing for a maximum amount of people per square meter.
"It's going to change so many things, from the layout of spaces to what you can and you can't touch in a safe way. And at some point, your exhibition might be viewed online, not physically for a period of time".
"We are looking into gestural control, tailored experiences for small groups and utilising voice and augmented reality solutions to create meaningful storytelling opportunities working within the design constraints of the new normal."
Efficiencies in business communications
Being forced to communicate online and through video conferencing has brought about some changes.
"Our business communications have changed quite a bit in terms of video conferencing. I think that offers some opportunities. Previously if I was looking to develop new business, I would think that I would need to travel to that state and I would need to see five different people. But now I think, we can just have a Zoom meeting," says Alexandra.
"I've been able to have some meetings just to share knowledge and expertise and talk through a project with a group of people, using video-conferencing in a conversational way. I think it's efficient because you're not having to allow travel time.
"I noticed when we were working on a master plan with Sovereign Hill in Ballarat, the efficiency of clicking into a meeting that has 20 people around the table, you don't have that 15 minutes before the meeting starts waiting for everyone to get there. You don't have that because you're not physically picking up and leaving a space".
Risk is now a differentiator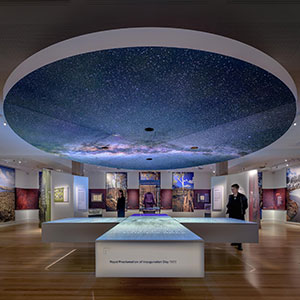 Redevelopment of Permanent Galleries, Voices, National Archives of Australia. Photographer Ben Guthrie.Alexandra points out that shortage in supply of some materials has been a factor in choosing materials, keeping stock and managing risk on projects.
"Some of the subcontractors that we work with have experienced some shortages in materials coming from Chinese suppliers who also are experiencing slowdowns. So, that has been a bit of a risk.
"We've also been a bit more cautious when we are promising a project by a certain point in time that we're really sure all the materials are absolutely viable especially if anything has to come in internationally. There's more risk and more concern around it."
"There's also a lot of double-checking. We've got a project going that we've been designing this year for the Eromanga Natural History Museum in outback Queensland and we made sure that when we put in the order for the showcase with our supplier in Melbourne who is getting some elements internationally, that they've definitely got the materials. It now means we need to pay ahead to make sure they have it when we need it".
Alexandra believes that the ability to make locally is a potential differentiator as there is less risk around getting the product on time.
"A really key thing now when an organisation is looking at who to appoint to do a job is that they can actually do it with border restrictions in place. The fact that we are local and manufacture here is actually a real plus point".
"Freight is still open, so even if we can't physically send somebody interstate, we can send equipment. Sometimes we actually need to send the people as well to do the final stages of install, this means we can't accurately cost the install. What you might have budgeted for six months ago and the reality now is not the same. This makes communication with clients very important and letting them know that you're doing your best to meet the project deadlines. Sometimes things need to be negotiated or renegotiated because of extenuating circumstances."
The importance of team
Alexandra stresses the importance of looking after the team during this period.
"I think, for us, we've really tried to keep our team around us. It's been a bit like 'batten down the hatches, the storm is coming' keep the team together. That sense of community and solidarity has been so important.
"We are making sure that we are working together as best as we can and that there is transparency around what is happening and how we're going to manage it.
"So, I think keeping our team together and making sure that we're looking after our employees as best as we can has been key during this time."
2021 Update
Thylacine have won some National and International design awards for recent projects.
International
Paris Design Awards 2021
Winners Interior Design/Civic buildings
The Western Australian Museum (Boola Bardip) client Western Australian Government
Penguin Parade Visitor Centre client Phillip Island Nature Parks
Connections and Voices, Permanent Galleries, National Archives of Australia
Winner of the 2020 C2A Creative Communication Award for Museum exhibitions / Exhibition design
National
The Western Australian Museum (Boola Bardip)
Museums and Galleries National Awards 2021
Best Permanent Exhibition (level 4 budget)
Endeavour Voyage: The Untold Stories of Cook and the First Australians, National Museum of Australia
Museums and Galleries National Awards 2021 (MAGNA), Best Temporary Exhibition (level 4 budget)
Newly opened exhibitions
The Auckland War Memorial Museum galleries Imaginarium and Tāmaki Herenga Waka: Stories of Auckland have both opened.
Mapiya Lumi: Around Here a new children's gallery has opened at the Tasmanian Museum and Art Gallery.
An initiative of the ACT Chief Minister's Export Awards
The ACT Chief Minister's Export Awards aims to showcase and celebrate the achievements of Canberra region exporting businesses. These Canberra and region businesses transact significant parts of their business activities (legal, accounting, production, research etc.) through the ACT as they develop international markets. The ACT Chief Minister's Export Awards aims to build the pathway for new and emerging Canberra region businesses seeking to internationalise their business. If you are a new or existing exporting businesses in the Canberra region, you can access a range of support as well as network with other exporting businesses, including

The ACT TradeStart Program helps ACT exporters to achieve long term success in international markets. The TradeStart program allows the ACT Government to work closely with Austrade and access key Austrade resources such as their export database, trade mission activities, their off-shore offices, intelligence and international connections for the trade and investment activities to support ACT exporters.

The International Business Engagement Program is being delivered by Canberra Business Chamber on behalf of the ACT Government. Its main objective is to maintain, rebuild and find new opportunities for Canberra and region businesses to engage internationally. The program focuses on building the Territory's exporting community; providing training and support by facilitating seminars and workshops; creating links between local industry and other government support programs; assisting the ACT Government in co-ordination of business trade delegations (outbound and inbound).