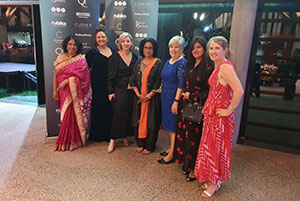 Chef Sunita Kumar (wearing black and orange)Chef Sunita Kumar of Canberra's multiple award-winning DAANA restaurant has been named as the Chamberlains Law Firm – 2020 Canberra Business Woman of the Year. Last night the 2020 Rubik3 Canberra Women in Business (CWB) Gala Dinner and Business Awards was held at the National Arboretum in Canberra.
"This morning I'm still pinching myself in disbelief to make sure I'm not dreaming!" says Chef Sunita. "In 2012 if someone was to have predicted THIS for my future in 2020, I would have laughed! What a journey it has been for my husband Chef Sanjay Kumar and myself."
On a one-way ticket from India in 2012 – Sunita, husband Sanjay and family arrived in Canberra. In 2015 they launched DAANA in a 40-foot shipping container – as part of the pop-up village, Westside Acton Park, on the shores of Lake Burley Griffin in Canberra. The chef duo moved from serving Indian street food from the shipping container, to a full a la carte restaurant, when they moved DAANA to commercial premises in Curtin, ACT in 2016.
Since 2015 Daana has received consistent award recognition and praise from food critics for their innovative menu, use of authentic recipes, passion for quality ingredients, and warm and welcoming customer experiences. To date DAANA has won a recipe book's worth of local and national hospitality and food awards. DAANA is the first Indian restaurant from the nation's capital to receive a Silver Award at the 2019 Restaurant and Catering Association of Australia (RCA) Savour Awards, in the Best Indian/ Sub-Continent Restaurant Category.
Other awards include Best New Restaurant in Canberra (2017), Best Indian/Sub-Continent Restaurant in Canberra (2018, 2019), AGFG (Australian Good Food and Travel Guide) Reader's Choice Award (2020) and the Savour Awards - Consumer Vote Award (2019) were they beat out other well regarded Canberra restaurants like The Otis, Agostinis Italian and Pollen Cafe.
"Our aim has been to redefine Indian cuisine in Australia." Chef Sunita explains. "You won't find a butter chicken or vindaloo on our menu. We started DAANA on the belief that they could change how Indian cuisine is thought of, eaten and enjoyed in Australia. All the tears, and failures, and ups and down of the business has pushed us to work hard for our dream. Being named the 2020 Canberra Business Woman of the Year reminds me that daring to be different, following your passion and having faith in your dreams is the recipe for success in business. I'm deeply proud of our new home in Canberra and I hope my award, the first for an Indian origin Australian woman and in the hospitality industry, will encourage other business women in Australia to follow their dreams as well".