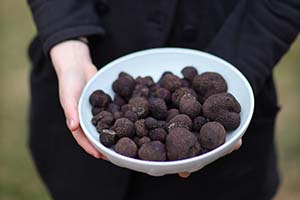 Terra Preta Truffles is a family run farm growing the award-winning Black Truffles, Tuber melanosporum. Situated just outside of the Braidwood, the truffles are grown without the use of any herbicides, pesticides or chemicals and have won Gold in the prestigious Australian Food Awards in 2016, 2017 and 2018. The truffles are exported to restaurants in Paris, Napa, New York, Los Angeles and Tokyo.
Peter Marshall, renowned arborist and forester, runs the farm along with his wife Kate, children Gus, Rita and Keith, and Keith's partner, Zoe.
Peter says that while last year the smoke from the bushfires meant they had about three months of virtually no sun, this year the rainfall has been beyond belief and the trees have responded marvellously.
"It's a good season and the quality is great," says Peter.
Making the truffles feel at home
Peter says everything in their silviculture, which is the term used to refer to agriculture for forests, is designed to maximise the truffles comfort in the environment.
"They think that they're in France in an old-fashioned oak forest which is where they evolved over millions of years".
This results in a complicated management of the forest.
"We've got a reputation worldwide for outstanding product and that means the flavour, the density, the lifespan, and the appearance. The truffles need to be nice and rounded without any cracks in them. Everything about our soil management and tree management is designed to maximise the metabolic strengths of the organism so that it can produce all the flavour compounds".
Peter says while there are a lot of trade secrets in what they are doing, really they are trying to make the truffles feel like they are in their home ground.
"Our truffles are all about flavour and a good chef understands how to recognise good truffles."
Peter says that unfortunately in the truffle industry there is a massive supply of mediocre product, which is herbicide tainted and full of dirt.
"Once a chef is happy with a product, they become extremely loyal to that supplier because they know they're not going to get let down. In their terribly high stress job, they can't afford to be let down, not even for one night as the word gets around.
"So, part of what we do is the quality control. We have to be strict about what we actually ship out. And that strategy works because they come back to us year after year".
Sharing the science with specialised knowledge handed down through generations
Peter says one of the constraints this year is labour. Terra Preta cannot get their usual Italian and Greek truffle hunters into the country due to COVID-19. So, the family is doing all the work themselves.
Truffle hunting is a specialised skill that is passed down across generations and involves an understanding of the environment, specific hand tools and dog psychology. The pickers have been brought up in mountain and forested environments in Greece and in Italy. They have been taught by their grandparents the old ways of doing things.
"They also keep us informed about the industry over there and any developments".
There is a lot that can be learned from each other. Peter says that it's highly likely that the science is better in Australia now than it is in Europe.
"That's because we started from first principles here. We didn't have any old traditions we have to respect. In Europe, there's a lot of this sort of thing. Our science is good and as a result we've had a lot of scientists from all over the world coming here to hear about us, becoming friends, getting to know us and also teaching us. We also teach them, and we've got this wonderful international connection with professors of mycology from all over the world".
Distribution is culturally determined
Peter says when it comes to distribution, each country has its own way of doing things. And it's very culturally determined. He says it helps to be well connected, because you can ask about the different distributors and this market intelligence is very helpful before you even talk to someone. Over the years, they've had a few that didn't quite work out, but the ones that have worked out have been loyal.
"In most cases, we already knew they'd be good before we even met them because their reputation preceded them", says Peter.
Reputation in the industry is important. Peter stresses that they are not selling Australian truffles, they are selling Terra Preta truffles from Australia and the reputation of the family and the family farming practices.
Peter says that while he might provide the scientific backing for the farm, it's equally about the hand skills, the dog psychology, the hunting skills, the preparation, and everything else, which all the members of the family are expert at.
Being a family business
For family businesses, whether multi-generational, husband and wife teams or sibling groups; the business is normally a reflection of the family's values. Most family businesses take a long-range view hoping to build a legacy for future generations1. Succession planning is important in family businesses and at Terra Preta, Peter says it has been important to introduce all the family members to the customers and educate customers about the functions the different family members perform.
"Luckily, it's a really fun business so the kids are really happy to step in and take on more roles. For instance, Keith, who is the eldest, handles all the distribution in Canberra. This means that every Friday he has to visit 12 restaurants, which is a huge thing to do and it's exhausting. It's also a great deal of fun and he's made lots of good friends. Keith and Zoe are well known in the industry. Rita is our dog trainer, which is incredibly important. She's grown up with truffles and dogs and doesn't remember a time when we didn't have them. For her the dog psychology is just second nature. Gus is currently working to start up a special arboretum in Melbourne. He's starting tree planting from scratch and doing all the preparation and propagation and he's becoming a skilled forester and farm manager. Kate is the one doing all the hard work out there in the frozen ground, hunting truffles.
"We have this next generation of skills, and we make sure we introduce them to the customers so they are aware of them".
An international business means understanding different countries' idiosyncrasies
The focus on quality at Terra Preta means having a good understanding of customer's individual requirements.
Peter says that it's important that the truffles are processed properly.
"After digging them up, they have to be washed, scrubbed, graded, sterilised regraded, packed to high standard, and then driven to the airport.
"The Japanese market regard our truffles highly. The quality is excellent, and our truffles are hand scrubbed. They do not like truffles that have been machine washed as they have scratches and dings, it knocks the skin around and makes them look ugly. They appreciate that we're doing it their way as presentation in Japanese cooking is so important".
Peter says they have a really wonderful relationship with the Japanese.
"We have inoculated French black truffles into Japanese oak trees. That's the ultimate sort of fusion cuisine. They were really impressed that we went to the effort".
Sometimes it's about understanding how the truffles are presented or served.
"In France, we sent them some big truffles early on, because we were proud of them. They were shocked because they don't have them that big over there. They were too big to use at the table. We had to send small, nicely shaped golf ball sized ones, because in restaurants there when they come out with the food, they add the truffles with a flourish at the table. The Germans don't worry about that so much because they use them in the kitchen rather than out on the in the restaurant floor".
For more information about Terra Preta Truffles, visit http://www.terrapretatruffles.com/
1 https://www.familybusiness.org.au/about-us/fba-national-family-day
An initiative of the ACT Chief Minister's Export Awards
The ACT Chief Minister's Export Awards aims to showcase and celebrate the achievements of Canberra region exporting businesses. These Canberra and region businesses transact significant parts of their business activities (legal, accounting, production, research etc.) through the ACT as they develop international markets. The ACT Chief Minister's Export Awards aims to build the pathway for new and emerging Canberra region businesses seeking to internationalise their business. If you are a new or existing exporting businesses in the Canberra region, you can access a range of support as well as network with other exporting businesses, including

The ACT TradeStart Program helps ACT exporters to achieve long term success in international markets. The TradeStart program allows the ACT Government to work closely with Austrade and access key Austrade resources such as their export database, trade mission activities, their off-shore offices, intelligence and international connections for the trade and investment activities to support ACT exporters.

The International Business Engagement Program is being delivered by Canberra Business Chamber on behalf of the ACT Government. Its main objective is to maintain, rebuild and find new opportunities for Canberra and region businesses to engage internationally. The program focuses on building the Territory's exporting community; providing training and support by facilitating seminars and workshops; creating links between local industry and other government support programs; assisting the ACT Government in co-ordination of business trade delegations (outbound and inbound).