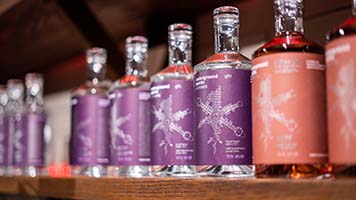 Underground Spirits produces some of the world's best vodkas and gins using their unique cryofiltration process. This patent pending process sets Underground Spirits apart, as the product is not only made from high-quality ingredients, the entire process has a base in science.
Proudly Australian, the premium range of vodkas and gins are distilled in Canberra and have won several major awards around the world, including medals at the International Wine and Spirit Competition, San Francisco World Spirits Competition, World Vodka Awards, and The Gin Guide Awards.
It's in the science
Head Distiller and owner Dr Toby Angstmann is a medical doctor by profession, a leading fertility specialist and robotic surgeon. Inspired on a trip through Scotland's whiskey distilleries, he decided to apply his new ideas to distillation, a process we now call cryofiltration. This process eliminates impurities and makes for a very smooth, beautiful spirit.
Amplifying the pure raw ingredients, such as wheat sustainably grown and sourced from New South Wales; and the water from the Snowy Mountains Cotter River catchment area which has no farms or industry, limiting pollutants in the water is all part of the underlying Underground way. For a uniquely Australian flavour, Underground Spirits uses native and local botanicals where possible and is honoured to be part of a collaboration with the Australian National Botanic Gardens Canberra celebrating the Gardens' 50th Anniversary year in 2020. The Ad Crescendum Native Gin was created with specially foraged native botanicals from the collection.
Since 2017, Underground Spirits has grown rapidly, when Toby was joined by his sister Claudia Roughley as CEO. They continue to go from strength to strength with distributors across Australia as well as a distributor in the UK. Claudia lived in the UK for some time, launching the brand there.
"Down Under" an international differentiator
Claudia says that Underground Spirits actively promotes its Australian made origins. Its desirable environmental conditions, the spirits unique taste, Australian branding, and sponsored events has seen Underground Spirits grow in popularity amongst the UK bartenders as well as collectors who want to add an Aussie gin or vodka to their collection. The company now has a website specifically dedicated to the UK.
During the COVID-19 lockdown direct to consumer online sales through the website have increased markedly. One of the biggest trends they have seen in the last 18 months is with people stuck at home developing an interest in making cocktails. Tapping into this trend, Underground Spirits has developed inspiring content in the form of make-at-home recipes.
Back to the science and a strong sense of community
2020 saw Underground Spirits make a complete pivot. With Toby's colleagues ringing for help - 'we can't get alcohol to disinfect the operating theatres'; within 24 hours they turned the whole distillery from making liquor to making hand sanitiser for use by frontline medical staff. Claudia says those months were really hard.
Global supply chains had weakened, and no one had enough alcohol to deal with the demand.
Claudia says that's why the distilleries had to turn around and start distilling anything they could get their hands on. Wineries donated their bushfire smoke-affected grapes and brewing companies sent kegs of beer. All these products were put through the stills to make alcohol for sanitiser.
Services Australia reached out to them. They were facing closures of Centrelink shopfronts because they did not have enough hand sanitiser for staff. Claudia says they literally had to put a transport overnight to Queensland with sanitiser so that Services Australia could open their doors the next day. Lots of people came together - transport companies, the Emergency Services Agency (ESA), winery, breweries and even the military pitched in to help.
Where to next?
With some exciting local developments coming soon, Underground Spirits is still focused on the UK as an export destination for the immediate future. The next step will be looking at the gin-loving nations of Singapore and New Zealand.
For more information about Underground Spirits visit https://www.undergroundspirits.com.au/
An initiative of the ACT Chief Minister's Export Awards
The ACT Chief Minister's Export Awards aims to showcase and celebrate the achievements of Canberra region exporting businesses. These Canberra and region businesses transact significant parts of their business activities (legal, accounting, production, research etc.) through the ACT as they develop international markets. The ACT Chief Minister's Export Awards aims to build the pathway for new and emerging Canberra region businesses seeking to internationalise their business. If you are a new or existing exporting businesses in the Canberra region, you can access a range of support as well as network with other exporting businesses, including

The ACT TradeStart Program helps ACT exporters to achieve long term success in international markets. The TradeStart program allows the ACT Government to work closely with Austrade and access key Austrade resources such as their export database, trade mission activities, their off-shore offices, intelligence and international connections for the trade and investment activities to support ACT exporters.

The International Business Engagement Program is being delivered by Canberra Business Chamber on behalf of the ACT Government. Its main objective is to maintain, rebuild and find new opportunities for Canberra and region businesses to engage internationally. The program focuses on building the Territory's exporting community; providing training and support by facilitating seminars and workshops; creating links between local industry and other government support programs; assisting the ACT Government in co-ordination of business trade delegations (outbound and inbound).