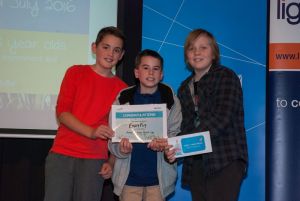 Yesterday the winners of Aviation Teen Start-Up were announced. Winning first place was Team Easy-Fly. Their project focussed on developing an App to improve the customer experience from check-in to boarding.
Twenty-two teams participated, made up of students aged between 10 and 18 years from 26 different schools in Canberra. With a focus on aerospace innovation, Aviation Teen Start-Up encourages students to invent, explore and experiment and let their dreams take flight! Projects ranged from using the K9 unit to detect disease, baggage tracking systems, planes powered by renewables; to improving space food and using drones to improve distribution. The students pitched their ideas to a panel of judges from the Canberra Airport, Microsoft Australia and local entrepreneurs on the Thursday afternoon.
Over three fun-filled days, students were taken through the innovation development process from idea to execution. Each Teen Start-Up Camp has a specific theme and this Camp was all about 'aviation and aerospace'. Teams looked at the problems and opportunities involved in both aviation and space flight, tackling both practical and big picture problems. They explored issues to do with logistics, transportation, energy, sustainability, infrastructure, safety and security, emergency response, customer experience, accessibility and the movement of people and things.
"Canberra Airport is thrilled to support the Aviation Teen Start-Up Camp. We enjoyed hosting the leaders of tomorrow on an exclusive behind the scenes tour and hearing their creative ideas. This camp is a wonderful opportunity for all involved to exchange ideas and cultivate the spirit of innovation and entrepreneurship," said Melissa Evans, Head of Marketing and Communications, Canberra Airport.
Lighthouse CEO Anna Pino says, "At the heart of Teen Start-Up is the focus on learning skills that will enable our young people to live and work effectively in the 21st Century".
"The kinds of skills students need to learn today are different from what they needed 20 years ago. Teen Start-Up provides a practical and immersive way of teaching the skills identified in the 'General Capabilities' section of the Australian School Curriculum.
"These are the skills that sit across the curriculum that will help students to live and work successfully in the twenty-first century. They are skills like creativity, problem solving and the ability to collaborate and work effectively in teams.
"These skills are also crucial for innovation and entrepreneurship. Teaching students about the innovation process is at the core of Teen Start-Up," added Ms Pino.
Some Highlights of Aviation Teen Start-Up:
'Behind-the-Scenes Tour' at Canberra Airport
The 'Behind the Scenes tour' has been developed to educate students about the aviation industry and the important functions of an airport. Teams had the opportunity to go on a tour guided by the airport management team. They had to navigate their way through the terminal following the passenger experience from check-in through to security. They also got to venture behind the scenes of the terminal and received a special K9 demonstration from the Australian Federal Police. They got to go where very few people are allowed to go. They travelled on a bus across runways and taxiways getting up close and personal to aircraft of all shapes and sizes. They learned about the different uses of an airport and had a visit from one of the most important residents on the airport – the Airport Fire Brigade.
Microsoft Technology Showcase
With the support of Microsoft, during the technology showcase students had the chance to learn programming within the world of Minecraft, and experienced what it's like to use a holographic computer.
Exploring Audio with The Clubhouse
The use of audio technology as a teaching and learning aid has progressed significantly over the past few years and can be an extremely useful tool for capturing and presenting information. The Clubhouse brought along some of their recording studio equipment to Aviation Teen Start-Up and teams had an opportunity to try techniques such as sampling, looping, midi-editing and mixing.
A Virtual Reality Experience with Poppin Code
Students were able to get hands on with Virtual Reality in a fun game developed by local Canberra start-up Poppin Code.
Guest Speakers from the Space Industry
Students had the opportunity to hear from Dr Brad Tucker and Dr Naomi Mathers from the ANU Research School of Astronomy & Astrophysics, and a workshop with the team from Quberider.
To find out more about Teen Start-Up, please visit http://www.teenstartupcamp.com.au/
About Lighthouse Business Innovation Centre
Lighthouse has a strong track record of supporting entrepreneurs, researchers and inventers on the path from concept to commercialisation. Since July 2008, Lighthouse has worked with over 990 distinct enterprises and provided group and peer based services to over 3400 enterprises and individuals. For over five years Lighthouse has successfully delivered business advice, education, mentorship and networking opportunities to help these businesses commercialise their ideas and grow their companies. Lighthouse also delivers programs such as the ACT Microcredit Program for the ACT Government. Visit www.lighthouseinnovation.com.au for more information.