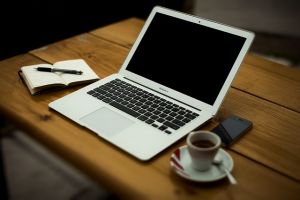 Chris Mason is the chairman and founder of Mindshop, a global advisory company operating out of South Yarra, Melbourne.
It's not often that you meet an advocate of the benefits of working remotely but Chris is one of those people.
I met him on a webinar during the week and asked him if I could spend a bit more time getting to know his business to find out why remote work is so important to him.
When we spoke, Chris had made calls within the past 24 hours to Toronto, Colorado, Ireland and Germany. In a typical week he speaks to clients in at least five countries.
Mindshop's business model is so dependent on remote work and the online way of working that he estimates that 90% of his business is conducted that way.
When I asked Chris why Mindshop works this way, the answer was a combination of foresight, cost-cutting and competitive advantage.
Chris forecast the online and virtual working world in the mid-90s and challenged himself to create a business model that was sustainable in that world.
He knew that in doing so he could set a major challenge to his competitors. He cut his fees by 40% and vowed that his prices would never change – a promise he has kept to this day. It's been possible because of the significant savings he has made by working virtually.
Being virtual has also given Mindshop access to a global market that was otherwise unreachable, effectively future-proofing the business.
What does online and virtual working look like at Mindshop? Even the executive team is located globally, with one of its senior executives working from her home office near Cardiff in the UK. The business is now a significant size, with 700 advisers around the world using Mindshop's online platform to learn, collaborate, develop their businesses and coach their own clients.
For video collaboration, Mindshop uses Skype and GoToMeeting. Mindshop's other collaboration tool of choice is their own cloud-based learning and development platform, based on IBM Notes 9 (previously Lotus Notes) called Mindshop Online.
The Mindshop community use it to capture and track all their strategies and actions with a coach, complete online training courses, download resources, review tools and collaborate with peers around the world all from one location.
"All the Mindshop people use Mindshop Online to collaborate continually, 24/7," Chris says.
I asked Chris what else he does at Mindshop to make remote work effective. In addition to using an online collaboration platform, Chris meets with his core team every two weeks. He manages performance on the basis of trust and outcomes.
"I don't know what they're working on at a set point in time but I just look at outcomes. And in everything we do there is a team connection; we have to do it jointly."
Chris sees some issues with using online platforms to build a new business.
"You've got to build relationships. I used to go to the UK and the US, Canada and the Netherlands to build new client relationships. Once I had those established, I wound the visits back to four a year and I'm slowly winding those back... All the other dealings are done in a virtual, online format."
Would Chris change remote work for a more conventional, bricks-and-mortar business?
"The way we work is the only way we could operate: you've got to be online and make your business scalable."
Chris's story shows the incredible power of technology to achieve cost cuts, open up new markets and future-proof your business. No wonder he passionately supports remote work for today's advisers: the opportunities are immense.
Nina Sochon
Nina Sochon is a leading expert on remote and flexible work in Australia and a High Performing Workplaces Consultant. Nina now assists businesses to drive amazing service outcomes and powerful staff engagement through a clear system of results management, effective leadership and highly productive remote and virtual work arrangements.