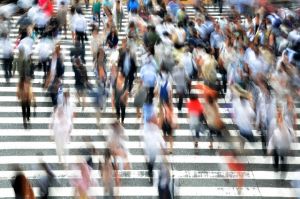 We need start-ups in Canberra - both for employment and for ideas. People starting new businesses and trying new things adds vibrancy to the economy.
In fact, start-ups are at the forefront of many of the trends that are driving the future of work.
Start-ups have embraced the new era of connectivity and interactive technology and their work practices reflect this. Being mobile, connecting to work via the 'cloud', collaborating both through online platforms and face-to-face through co-working spaces; they embrace the idea of working flexibly. Because start-ups are usually cash-strapped they also look at compensation differently.
Where possible, they pay for results rather than hours worked and they also look beyond just monetary incentives to reward staff.
These trends have been well established in start-up communities for some time, but are now starting to become more mainstream and we are seeing an increase in the number of organisations that have redesigned their workspaces and practices to allow more flexible work, online collaboration and a focus on information sharing.
We spoke to CBR Innovation Network CEO Sarah Pearson about her thoughts on the future of work and the need to encourage entrepreneurship.
Sarah believes that people are increasingly seeing entrepreneurship as a viable career option.
"People want compartmentalised lives where they can move the compartments around," says Sarah.
"This means you don't have to work the traditional 9 to 5 and you're not limited to the conventional workspace in an office, instead you can work and collaborate in different ways.
"Youth are also saying they don't want the whole multinational career path and want more control over their lives. Young people with MBAs are now saying they want to start a company and they are also talking about social issues and how they can solve them.
"The tools are now available for them to give it a go whereas the tools weren't there before".
Sarah also points out a trend especially relevant in Canberra.
"The way public services are delivered is also changing. Internationally we are seeing a lot more not-for-profit, commercial and cooperative approaches coming in to play and this has a lot of opportunities for entrepreneurship".
Sarah believes there are a number of real opportunities for Canberra to develop its own niche.
"With the public service as a major customer, a supportive environment where educational and research institutions collaborate and a community of a size you can get your hands around, we have a lot of potential," says Sarah.
While the challenge of distance encourages companies to be born global, the question arises as to whether we are adequately preparing our young students for a changed world where a job for life no longer exists and they will have to compete in a global market.
Sarah believes our universities are certainly making a concerted effort, but there's more to be done.
"They are giving it a great start and there are more unis who are linked to accelerators and incubators now, but universities take a long time to change".
Sarah believes the future of work and industry is not only about encouraging engagement with STEM (Science, technology, Engineering and Mathematics), but it has to be married with entrepreneurship.
"What has been really encouraging is the willingness of our local universities to engage with the local start-up community," says Sarah.
CBR Innovation Network is one of the sponsors at this year's Festival of Ambitious Ideas on the Thursday 30th July and Sarah will be one of the 12 speakers sharing her ideas on this year's theme, which is the 'Future of Work".
About Lighthouse Business Innovation Centre
Lighthouse has a strong track record of supporting entrepreneurs, researchers and inventers on the path from concept to commercialisation. Since July 2008, Lighthouse has worked with over 990 distinct enterprises and provided group and peer based services to over 3400 enterprises and individuals. For over five years Lighthouse has successfully delivered business advice, education, mentorship and networking opportunities to help these businesses commercialise their ideas and grow their companies. Lighthouse also delivers programs such as the ACT Microcredit Program for the ACT Government. Visit www.lighthouseinnovation.com.au for more information.