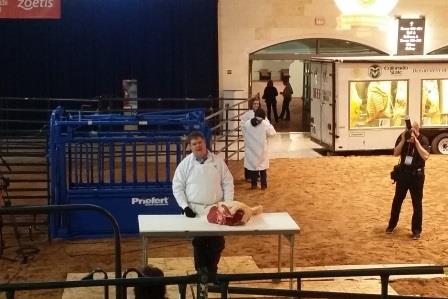 Last month, the beef industry in the United States had their largest annual convention in San Antonio Texas.
This large, multi-day event is organised by the National Cattlemen's Beef Association.
It includes a trade show, educational sessions, and meetings of several groups and committees all focused on the regulations and business of raising and selling cattle and beef.
This year's event was the 117th annual Expo, a rewarding and eye-opening experience deep in the heart of Texas!
Given our business is focused on developing intelligent medication delivery devices; we felt it necessary to attend the expo to investigate the US market and learn firsthand about their usage of medications and vaccination specifics. The American cattle market is under enormous pressure and is in the midst of making significant changes.
We realised being an Australian company, we have advantages, we're more advanced than our American counterparts. We've been doing pasture management for the last 5 to 10 years while America is just starting to look at this in earnest.
We've been working on the traceability and compliance of medications for more than a decade while America is just getting started. Australia has long been seen as a country that has all its ducks in a row when it comes to export compliance.
There were a number of interesting and innovative solutions coming to the industry; one of the most scientifically complex innovations involves sexing semen. Certain US universities, building on their findings that female sperm is 4%
heavier, have developed ways of separating male and female sperm. This has great benefits to certain segments of the industry, like dairy and beef farmers.
We made some friends at the expo, and were invited out to a rather large and advanced Wagyu (Japanese Akaushi) beef breeding operation. This outfit is well known for producing high-quality bulls that are stout, muscular beasts with rich, beautiful marbling throughout the carcass.
We didn't see any massaging going on or hear any classical music playing at this particular outfit, but the animals looked plenty healthy and very happy none the less.
All in all, our USA visit was a smashing success. With our boots on the ground, we gleaned a tremendous amount of information on how to ensure our products help farmers in all countries bridge the gap with technology, enabling them to better track and report on the health and status of their livestock.
Should you ever find yourself in Texas, San Antonio is worth a visit. The Riverwalk is a delight, and one should not miss the rich history of the Alamo.
David Edwards, Miguel Brinlee from Davoodi
Davoodi has developed My Pocket Farmer™ and AutoMed™ which provides an intelligent medication delivery device due to be launched later this year. We are a global team that blends hands-on agricultural experience with software and technology. Our headquarters is in Fyshwick Australia. Formed in 2012, Davoodi is focused on delivering solutions to farmers focused on raising livestock sustainably. Our goal is to keep abreast of industry directions, and provide timely solutions that aid in the areas of compliance, management and organsation.