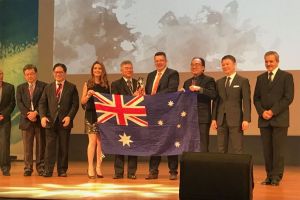 The livestock medication platform, automed, has won the top award for Industry Application at the Asia Pacific Information and Communications Technology Alliance Awards (APICTA). It capped a successful night for Australia, whose team also took home four merit awards.
automed is an innovative livestock medication applicator that utilizes an operating system and mobile app to offer producers of beef, lamb, dairy, and pork the opportunity to manage their dosing better; creating more efficient operations that provide full traceability for markets that increasingly require greater transparency of product.
"We are thrilled and honoured to have received this award. Having just launched this year, we did not expect automed to be recognized as quickly as it has. This shows that we are creating a very special product, which has the potential to offer value across the global livestock supply chain," said David Edwards, CEO, and Founder, automed.
"The growth of the company since our launch in early 2016 has been rapid, but the development of the platform was an incredibly long road. I am proud to accept this award, not just for our dedicated team, but also for Australia and the state of Canberra, which has offered us incredible support along the way," he added.
automed qualified for the APICTA Awards through wins at the iAwards, Australia's premium competition for recognizing innovation in Information and Communications Technology. automed was the winner of:
Industrial & Primary Industries
Mobility Innovation of the Year
Victorian Government Inspiration of the Year
About automed
automed is a next-generation livestock medication platform. At the heart of the platform is the automed applicator, which is not just a leap forward in ergonomics, it offers a cutting edge technical approach to the challenges associated with dosing animals. The automed system provides accurate weight-based doses, with data that is automatically shared with the automed OS and mobile application, for management to be given even greater control of their operations, wherever they may be. Visit automed.io to learn more.