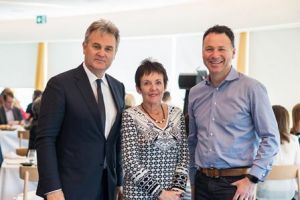 New monthly report offers data that exists nowhere else, giving policy and industry decision makers a real time insight into the health and conditions of small businesses.
Xero (@Xero), the global leader in online accounting software, today unveiled Xero Small Business Insights, Australia's most comprehensive picture of the conditions and health of small businesses.
Developed with support from global advisor KPMG Enterprise, Xero Small Business Insights will be updated monthly across five major pillars — cash flow, payments, employment, trading overseas and cloud adoption — based on anonymised and aggregated data selected from the half-million Australian subscribers using Xero.
Xero Small Business Insights will deepen the understanding of Australia's small business economy by providing information that's more timely and accurate than much of what's currently available. The index relies on all Xero subscribers that meet the criteria for each pillar, making it more accurate than most private surveys, which have a far smaller sample size, with more frequent updates than most ABS data on small business.
Key insights from the inaugural Xero Small Business Insights report include:
Cash flow: Just 50.7 percent of businesses had positive cash flow as of June 2017, with many operating in the red as late payments crimped working capital ahead of the financial year-end; that's up from 48.9 percent a year earlier.
Payments: As large companies pledge to bring down payment times, small businesses are slowly but surely being paid sooner; invoices with 30-day payment terms were settled in an average of 36 days in June, down from almost 40 days a year earlier.
Employment: The number of employees on the small businesses payroll increased 1.3 percent month-on-month in June; that's faster than the ABS trend figure of 0.22 percent for all Australian employees.
Trading overseas: International trade for Xero small businesses fell slightly in June, with the total value of imports and exports sliding 2.6 percent month on month; that follows a spike of 24.3 percent in May.
Cloud adoption: Construction and professional services are leading the charge in adoption of Xero cloud accounting software to increase efficiency. Of the top 5 industries adopting Xero in the year through March 2017, construction made up the the largest share at 32.7 percent
Xero Australia Managing Director, Trent Innes, said:
"Xero has helped more than a million subscribers around the globe understand their financial operations better. Now, learning from a large sample of Australia's 2.1 million small businesses, we can provide insights into their health for the benefit of those that interact with small businesses most.
"Policy and regulation is most effective when based on timely, accurate data. Xero Small Business Insights provides exactly that, based on how small businesses are performing every month, instead of every quarter or year."
KPMG Special Advisor and Demographer Bernard Salt AM, said:
"Xero Small Business Insights is a great leap forward. For the first time it provides real insight into how the Australian small business economy is tracking.
"Traditionally, it's been difficult to get aggregated data on small business because of the lack of centralisation. Now, thanks to Xero providing access to their deep analytical insights, enterprise and government will have greater access to information when shaping their investment, policy and decisions.
"It's only a matter of time before the Xero Small Business Insights 'dashboard' is included in all management and board briefing papers indicating the state of the economy."
Visit Xero Small Business Insights at http://www.xero.com/small-business-insights.