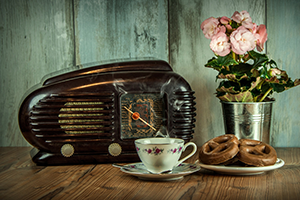 ArtSound FM, Canberra's arts broadcaster, believes that radio technologies have a vital role to play in tackling loneliness and isolation among seniors.
For several years, ArtSound's Internet-streamed Senior Memories Network has provided tailored radio programs to seniors in several aged-care facilities in Canberra and Western NSW. The service, programmed and presented by volunteer seniors, provides older and disabled people with a source of entertainment and company. As the Covid-19 pandemic has forced these and many other locations to be locked down, older citizens have suddenly become increasingly isolated from their loved ones.
ArtSound feels the time is right to open this service to a wider audience. Starting next week, it will devote two to three hours of broadcast time each morning to what it believes is a largely unmet need in the Australian community.
"Radio has played an historical role in years gone by in combating loneliness, but ever since the popular ABC Hospital Hour ceased broadcasting, there has been a void in Australian radio," said Chris Deacon OAM, developer of ArtSound's Senior Memories service.
"Older people have had little choice but to accept being broadcast at by raucous commercial radio and television or reverting to talkback shows or a limited collection of DVDs of dubious suitability."
In keeping with its role as a community broadcaster, ArtSound will set aside morning timeslots from 9AM to noon each weekday, including specialist and nostalgic music genres, and a one-hour music and information program dedicated to seniors.
Also planned are life stories, wellbeing information, and other features including feedback from listeners consistent with radio's role as a companion.
"ArtSound recognises the vital need to bridge the communication gap between families and those who may be isolated due to physical circumstances or confined to home through age or disability," Mr Deacon said.
The programs will be transmitted by FM and DAB+ digital radio and will be openly accessible via Internet radio sites and smart speakers, as well as via the ArtSound website (artsound.fm). ArtSound is interested in hearing from organisations that may
wish to give something back to the community by supporting the service.