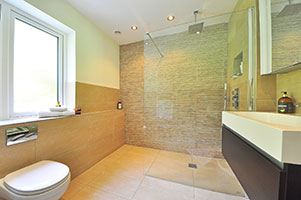 The Design Canberra Festival recently hosted a talk by well-known demographer, Bernard Salt, titled "Suburbia's time in the Sun". It invited viewers to ponder the question of whether the coronavirus was reshaping Australia's urban life. As people have been forced to work from home, we have seen neighbourhoods come alive, local parks full of people playing and exercising and suburban coffee shops with queues out the door. Lifestyle has always been important to Australians and after being confined to our houses, many Canberrans have been grateful to have the relative spaciousness of suburbia.

2020 has been the year for home improvement with many people undertaking renovation projects to make their houses more livable. But what makes a house more livable? Livable Housing Australia (LHA), a partnership between community, consumer groups, government and industry, champions the mainstream adoption of livable housing design based on Universal Design Principles.
LHA describes a livable home as one that meets the changing needs of its occupants across their lifetime. From families with young children to ageing Australians, people with disabilities and those with temporary injuries like a broken leg. A livable house is one that can make it easier to carry the groceries in from the car; has wide doorways that allow furniture to be moved; step-free entrances and wider corridors for those using a wheelchair or parents with prams.
Bathrooms and kitchens tend to be some of the most popular areas of the house to renovate and also the most expensive. So, when you're planning your next renovation project, here are a few small changes to add to your renovation that can improve the livability of your house and make sure your investment suits your family through all ages and stages. It may also add to the resale value of your home.
Bathroom renovations
Opt for Smart features
When planning your bathroom renovation, consider installing automated taps. There are a number of plus points for these: they are great for saving water, they're more hygienic; and they allow for use regardless of age or disability.
Hobless showers
The other bathroom renovation that's quite fashionable at the moment is the hobless shower. Basically, this is a shower recess that sits flush with the rest of the tiles in your bathroom floor. They have a contemporary look, are easier to clean, and because they have no threshold to step over, they are more accessible for someone with mobility issues.
Plenty of space
Having a nice wide, open bathroom not only adds to the feeling of a luxury spa but also makes it easier for someone in a wheelchair to make a 180-degree turn. Clear space in front of a toilet makes it easier for children who are toilet training, older people and those with mobility issues.
Bathroom vanities
The humble bathroom vanity has also had a makeover lately. Floating vanities with the cabinet mounted directly to the wall allow for more airflow and create an illusion of space and expansiveness. It not only is easier to clean your tiles but for someone in a wheelchair, it means they can get closer to the sink.
Plenty of light
Light fixtures can provide an attractive decorative element to your bathroom. Not only does it add style, but adequate lighting makes it easier for grooming tasks like shaving, plucking eyebrows or applying make-up. It is also an important safety feature. As we get older our eyesight deteriorates. Bathrooms without natural light will especially need extra lighting. Consider using vanity lighting along with recessed or overhead lighting.
Handles and light switches
There is so much choice when it comes to cupboard and door handles. Lever action or pull door handles are easier to use than knobs that require a gripping and twisting action. This makes it easier to open cupboards or doors for someone with arthritis, an injury or with their hands full. Position light switches close to door handles. This makes it easier to find the door handle in the dark. Paint colour contrast can not only add interest to a room, but it can also make light switches easier to find in the dark.
Recessed storage solutions
Between the wall studs, recessed storage niches look great in a bathroom or shower. They are also a better safety feature as they don't jut out, meaning someone is unlikely to grab them for stability. In fact, a research study by the University of Queensland found that slips in the bathroom are a common cause of injury in children and older people that require hospital admissions. It is therefore important to ensure flooring in a bathroom is non-slip and grab-rails are installed.
So how do you pay for these renovations?
Refinancing to renovate is the most popular reason for refinancing and can be a great way to add value to your property. If you're considering this as an option, here are some things to consider:
Get a valuation done on your home. This will help you work out how much you can borrow. The Loan Value Ratio (LVR) is the value of what you are borrowing as a percentage of your property value that is being used as security for the loan. The lower the LVR, the lower the risk is to the lender.
Look at the sale prices of houses in your area and work out the median property value. It's a good idea to spend no more than 10% of this value on a renovation, otherwise, you risk over-capitalising.
Use a mortgage calculator or book a free consult with a mortgage broker, to help you figure out the cost of repayments as well as help you to dot all the 'i's' and cross all the 't's'.
Contact the friendly team at ActonLendingSolutions to find out more about refinancing to renovate.