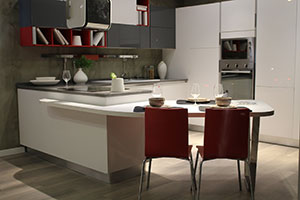 When it comes to renovating our homes we often think in terms of the here and now, rather than what we might need in 5, 10 or 20 years. Universal Design is a way of designing a space in such a way that it is functional and practical for all age groups, life stages and abilities. A 2017 Houzz & Home survey found that the kitchen is one of the commonest and most expensive rooms in the house to renovate. A kitchen design that is beautiful, functional and comfortable for all is a better long-term investment and means it can cater for the multigenerational family, including older grandparents and a family member with a disability. So, if you are planning a kitchen renovation here are a few things to consider.
Kitchen layout
An open kitchen design that provides plenty of space between obstacles is important. For example, try to leave at least 1.5 metres between kitchen cabinets and an island. Look at the traffic patterns through the space and allow enough room for multiple cooks in the kitchen. This will also make it easier for someone using a wheelchair or walker.
Lighting
A large window that allows in natural lighting and a view of the outside needs to be complemented with task lighting to make workspaces and countertop edges easier to see and ensure safety for the cook. As we get older our eyesight deteriorates, so choosing colour contrasts between cooking surfaces and countertops can help those with impaired vision.
Flooring options
Choose slip-resistant and non-reflective flooring options to ensure the whole family's safety as kitchens are high traffic areas.
Workbenches
Having counters at various heights or two-tiered islands makes these spaces accessible to everyone – from young children doing homework at the kitchen table to someone sitting peeling potatoes and also someone using a wheelchair.
Kitchen hardware
There are plenty of standard products available in the marketplace that not only look great but make it easier for people with arthritis to use. Loop handles for cupboards or touch latches look modern and make it easier to open doors. Touch latches are especially good for cupboards that store the bin, especially if you have dirty hands from working with food. Pull out storage and lazy Susans in cupboards can reduce bending and reaching for items as well as making sure things don't get forgotten in the far reaches of a pantry. Taps that use sensors or single-lever tap fittings are easy to use with an open hand or a closed fist. This makes it easier for people with arthritis to open.
Appliances
A side by side refrigerator provides multilevel access and bottom-mounted freezers tend to have slide-out baskets instead of shelves, making them easier to reach into. Fresh food tends to be used more frequently than the freezer, so having it on the top or the side improves accessibility.
Carefully consider the placement of appliances in relation to the main work areas. The stove should be positioned close to the sink so that it's easy to strain food like pasta. Make sure there is an unbroken area of countertop covered in heat resistant material between the cooking surface and sink to allow sliding items from one area to the other. Also, choose appliances where the control buttons are in the front and backgrounds have strong contrasting colours.
Wall-mounted ovens don't require bending and can be installed at a height so that the shelf that is used most is in line with the benchtop.
When considering the make and model of a dishwasher, check how easy it is to open, the location and accessibility of the detergent dispenser and ease of operating the controls. The dishwasher can also be elevated slightly off the ground to reduce the need to bend or consider installing a drawer dishwasher.
The changes highlighted above can all be sourced from standard products. Creating a kitchen that incorporates Universal Design principles is beautiful and functional for the whole family not only for today but also for tomorrow.
So how do you pay for these renovations?
Refinancing to renovate is the most popular reason for refinancing and can be a great way to add value to your property. If you're considering this as an option, here are some things to consider:
Get a valuation done on your home. This will help you work out how much you can borrow. The Loan Value Ratio (LVR) is the value of what you are borrowing as a percentage of your property value that is being used as security for the loan. The lower the LVR, the lower the risk is to the lender.
Look at the sale prices of houses in your area and work out the median property value. It's a good idea to spend no more than 10% of this value on a renovation, otherwise, you risk over-capitalising.
Use a mortgage calculator or book a free consult with a mortgage broker, to help you figure out the cost of repayments as well as help you to dot all the 'i's' and cross all the 't's'.
Contact the friendly team at ActonLendingSolutions to find out more about refinancing to renovate.