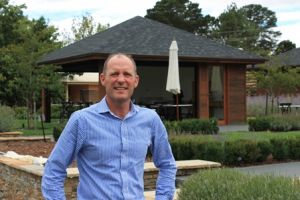 With the number of Australians living beyond the age of 100 higher than ever before, one of the opportunities that living longer provides us is the opportunity to re-invent ourselves and re-create our careers as we explore new passions and interests. Working into your seventies means you could conceivably have 2 or 3 successful careers over your working life.
One organisation that is offering unique and innovative lifestyle, educational and vocational training programs is Pialligo Estate.
Known primarily for its hatted Farmhouse Restaurant with its paddock to plate ethos, Pialligo Estate is so much more. Its Smokehouse, which was started five years ago, has products available throughout Australia and will be looking at an export licence later this year. It has won over 80 awards over the last few years for its bacon, salmon, smoked sole and sausages which are prepared using a technique used nowhere else.
There are also the Garden Pavilions with their spectacular views over the vineyards and olive groves to Parliament House; and the Glasshouse which is used for larger events and corporate entertaining. Now Pialligo Estate has a new initiative – Pialligo Estate Academy.
According to Maurits de Graeff, the Brand Ambassador at Pialligo Estate, the Academy grew from the Estate's own need to have professional staff and the challenges they encountered in finding suitably trained individuals. So, they attracted Diana Ryan with her extensive experience as an educator to set up the academy - not only for internal training, but also to open it up to an external audience.
The Academy offers training programs for cooks and chefs as well as for those people who simply have a passion for good food. The training programs also provide unique opportunities for those thinking of a career transition and want to invest in personal development as well as unique experiences for businesses who want something a bit different for team building activities or corporate events.
The impressive line-up of Academy Masters will share their knowledge, experience and techniques in food, wine and horticulture through a program of master classes.
What makes Pialligo Estate's new initiative so special is the way they have taken their ethos of 'paddock to plate' and translated it into an innovative experience for those planning a career transition; wanting to explore an interest or passion; or needing to hone vocational skills.
You can hear more about this exciting initiative from Diana Ryan, one of the speakers at the Festival of Ambitious Ideas on the 2nd March. You will also have the opportunity to enjoy a wine tasting and experience some of their delicious Smokehouse products.
About Lighthouse Business Innovation Centre
Lighthouse has a strong track record of supporting entrepreneurs, researchers and inventers on the path from concept to commercialisation. Since July 2008, Lighthouse has worked with over 990 distinct enterprises and provided group and peer based services to over 3400 enterprises and individuals. For over five years Lighthouse has successfully delivered business advice, education, mentorship and networking opportunities to help these businesses commercialise their ideas and grow their companies. Lighthouse also delivers programs such as the ACT Microcredit Program for the ACT Government. Visit www.lighthouseinnovation.com.au for more information.